There are more than 500 million blogs out of 1.7 billion websites on the Internet (as of 2021).
Around 7 million blog posts are published each day.
In this constant stream of information, how can you get readers to read your blog post?
The answer is not clickbait.
You're competing for people's attention and you also want to keep them coming back to your blog.
Clickbait headlines may improve your click-through rates initially, but when people find out that your content does not keep the promise your headline made, they will leave and never return.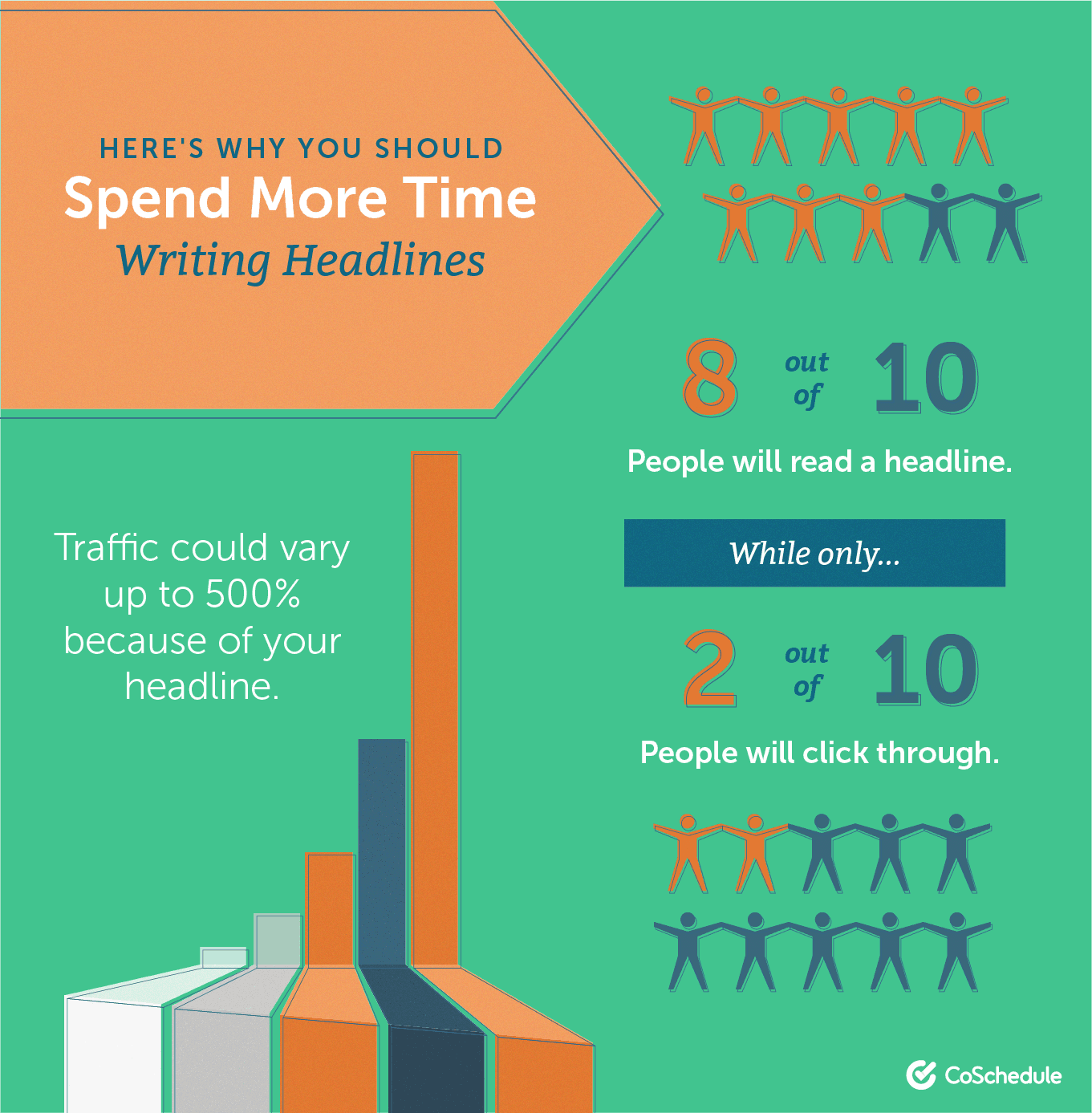 Source: CoSchedule
On average, 8 out of 10 people read headlines, whereas only 2 out of 10 people read the rest of the copy. This means that you cannot depend on stellar content to pull in readers. You must spend some time perfecting your headline to grab the most eyeballs.
You also need to be mindful of SEO best practices to help you rank higher in search.
Here are some tips, based on research, to write headlines that drive more clicks:
1. Place your main keyword to the front of the headline
Headlines can be SEO-friendly if you pay attention to your keywords.
Try to place your main keyword as far left of the headline as possible without sounding unnatural. If possible, begin the headline with the main keyword.
There are several reasons why this is helpful:
a) Your main keyword matches the search string that most people use to look for information. Placing it near the beginning of the headline tells the search engine that it is more relevant than the other words.
b) Readers scan headlines and tend to read the first three and the last three words in them. (Usability research by Jakob Nielsen)
---
2. Show the benefit upfront
People read articles to learn new information, get fresh ideas, or develop new skills.
Write a specific, clear headline that tells readers what the takeaway is.
Readers only care about the benefit they will get from reading your piece. They do not care how long it took you to write it or how attached you are to it.
Think from the perspective of your reader when you frame the headline. What will they gain after reading your article?
Headlines that begin with "How to…" appear to have greater click-through rates and rank higher on search results because most people type in search requests using a similar format.
In fact, I've framed the headline of this article using the "How to…" format.
Power Trigrams
Buzzsumo conducted a study on writing "good" headlines that got shared the most on social media. They found that headlines that placed certain trigrams (groups of three words) in the beginning were shared more often by people.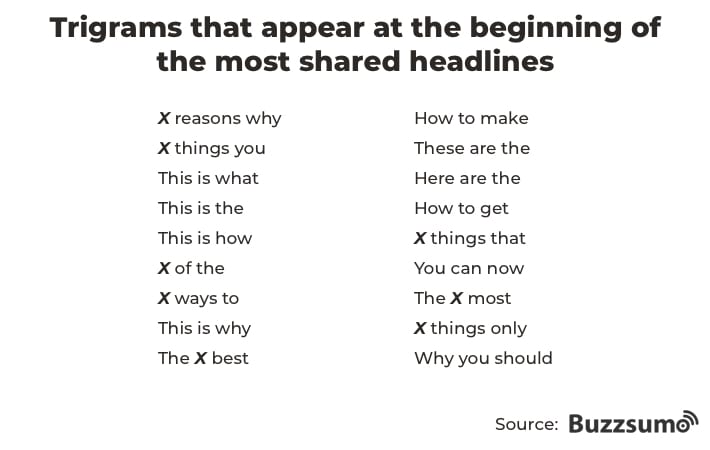 Of course, your content should match the promise your headline makes to the reader.
Clarity
Readers will understand what your article is about when your headline is crystal clear.
Conductor found that readers preferred certain types of headlines:
Normal headline – "Ways to read more books and slay your TBR"
Question headline – "Do you know how you can read more books and slay your TBR?"
How to headline – "How to read more books and slay your TBR"
Number headline – "5 ways to read more books and slay your TBR"
Reader-addressing headline – "What you can do to read more books and slay your TBR"
They found that number headlines and reader-addressing headlines were most popular and shared by more people on social media.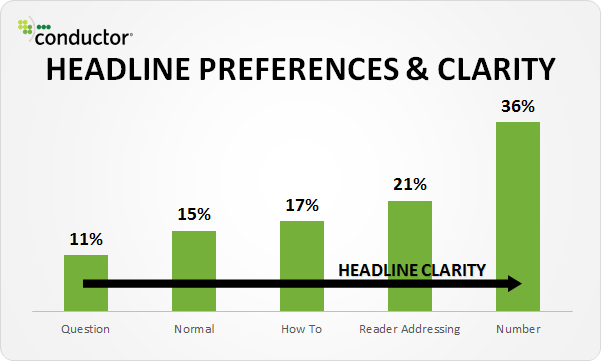 Number headlines are most popular because they are clear and specific about the benefit to readers. Reader-addressing headlines speak directly to the reader, either demanding action or giving specific advice.
Normal headlines, on the other hand, are slightly vague about the perceived benefit to the reader.
---
3. Use numbers
This tip follows from the previous one — being specific.
Headlines that start with a number have a greater click-through rate than those that don't.
A number that the article can be scanned to get answers.
Numbers make it clear to the reader that there is a tangible benefit to the article.
A number stands out in a headline composed of words.
Remember that most readers scan articles when looking for useful information. A list format works better than chunks of text.
Also, numbers don't always have to indicate that the article is a list. They could be statistics and data to indicate that the article is based on research.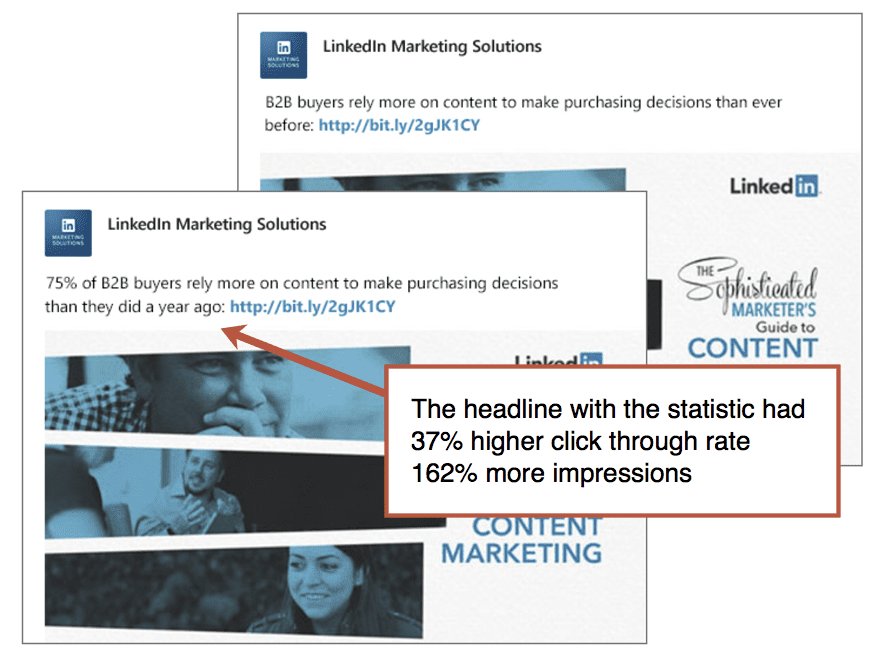 Trends in using numbers in headlines
Headlines with odd numbers have 20% higher click-through rates than headlines with even numbers.
Landing page headlines with a number in it have 30% higher conversions.
Smaller numbers (up to 15) tell the reader that the article is concise and the useful points can be easily gleaned.
Larger numbers tell readers that the article is comprehensive and will answer all their questions.
Headlines with the number 7 get more click-throughs than other numbers.
---
4. Write a headline with 5-9 words
Outbrain's research showed that "titles with eight words had the highest click-through rates, with these headers performing 21% better than average…"
Quicksprout, on the other hand, says that a good headline should have 6 words. If people have less words to read, they are likely to retain more of it.
Also, headlines closer to 55 characters generate higher click-through rates.
Overall, short headlines are more successful than long headlines at attracting more readers.
You should attempt to make each word in the headline work towards getting people to click on it.
Another point to note is that search engine results cut off titles after 65 characters that include spaces.
Thus, your impact words should be closer to the front of the headline.
---
5. Craft a headline with two parts
Shorter headlines tend to work better but that does not mean that longer headlines are a no-no.
Headlines with two parts i.e. separated by punctuation marks like hyphens, colons, or brackets work better than single sentences and can increase click-through rates.
According to Content Marketing Institute, when a colon or hyphen was placed in the title to indicate a subtitle, the headline performed 9% better than headlines that did not have it.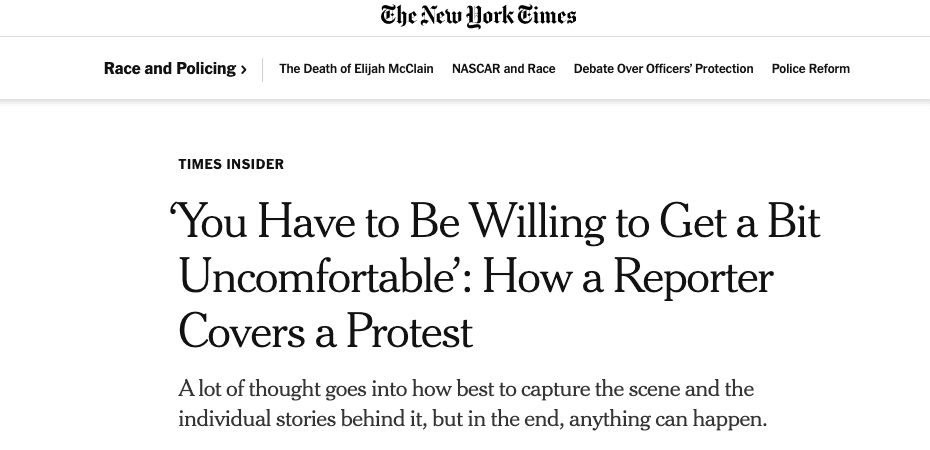 Source: Coschedule
Source: CoSchedule
---
6. Use strong adjectives, power words, trigger words
Powerful adjectives can transform a boring headline into an attractive one.
Adjectives convey emotion and personality to the reader.
e.g. valuable, useful, wonderful, terrifying, strange.
Also use power words to elicit an emotional response in the reader. Your goal is to get a response, be it curiosity, shock, anger, or laughter.
Here are some examples of power words:
Source: Flothemes
Trigger words like What, Why, How, When, and Which are equally important in headlines because they tell the reader that the article will give them an answer to their question.
e.g. How Can You Write SEO-Friendly Articles? [Including a Free Template]
This and These create intrigue and compel readers to click on the headline to find the answer quickly.
e.g. Are You Making These 5 Deadly Mistakes?
---
7. Use Negative Words
This tip is a bit controversial and surprising, but bad news appears to sell.
Outbrain's research has shown that the average click-through rates on headlines with negative superlatives were 63% higher than those with positive headlines.
Negative superlatives – Worst, Never
Positive superlatives – Best, Always, Most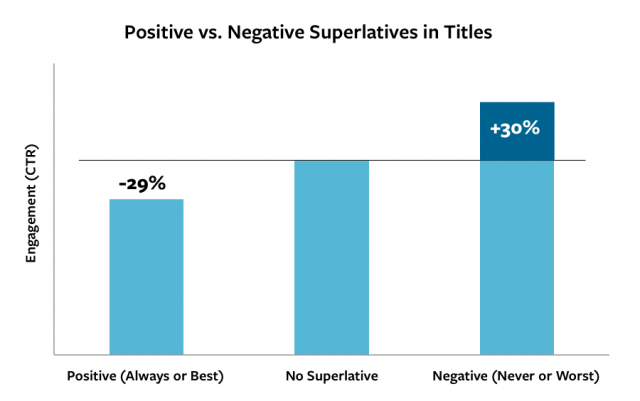 Source: CXL
There are some theories around why people are more attracted to negative headlines:
a) Positive headlines have been over-abused and have become cliché. They do not hold reader interest any longer because they're considered to be exaggerated.
b) Positive headlines do not deliver on the promise they offer. What is sold as "best" may not really be the best there is.
c) Positive headlines make readers question the credibility of the article. Often, readers wonder whether the writer was paid to compile the list of "top" things.
d) Negative headlines tend to shock readers. They want to know what they're doing wrong or what they should absolutely avoid.
e) Negative headlines are perceived to be unbiased and impartial. Strangely, a negative account is considered to be honest rather than a positive account.
---
Final Thoughts
Quicksprout recommends that you spend half the time it takes to write an article on crafting a persuasive headline.
It is a good practice to draft several headlines and then pick the one with the most impact.
You can use online headline analyzer tools to gauge how your headline will fare. I use these tools:
What do you think about the headline for this article?
Do you have any ideas for a better headline?
This blog post is part of the blog challenge 'Blogaberry Dazzle' hosted by Cindy D'Silva and Noor Anand Chawla and sponsored by Bakez by Daizy.
---
References: